Home
Links
Renewable Energy Log
April 2007
27th - 12v Items
March 2007
24th - New Monitor Box
January 2007
30th - 90Ah SLA Battery
26th - New Charge Controller
10th - 18w Panel Smash
December 2006
23rd - RE Radio Shack
4th - RE Laptop
2nd - 10mm LED Torch
November 2006
21st - Panel Stand
October 2006
16th - More Portable Ideas
10th - More Portable Ideas
8th - Portable Ideas
2nd - 60w Array
September 2006
20th - 18W eBay Panel
20th - Solar Monitor Box
17th - CCFL Lights
17th - 17Ah Battery Datasheet
5th - SLA Batteries
August 2006
6th - 6W Folding Panel

Copyright © 2006-2007
Andrew Whyman
New Charge Controller
eBay Seller: koekraf:-
This seller is brilliant. The delivery, despite being from abroad was very quick (1 week). Id recommend this seller if you want one of these charge controllers.
Ive just got my new charge controller from eBay. Its microprocessor controlled and displays everything you need to know. I may still use seperate volt and current meters along with it however since its only got a "0.1" acuracy level on voltage and current.
I had a few teething problems when I first got it. The screws holding the screen in place were quite tight and were pressing the plastic behind the buttons, causing the "-", "OK" and "RESET" all to reset the unit when only "RESET" should do this job. I loosened them up a bit and it seems OK now providing I don't press them too hard.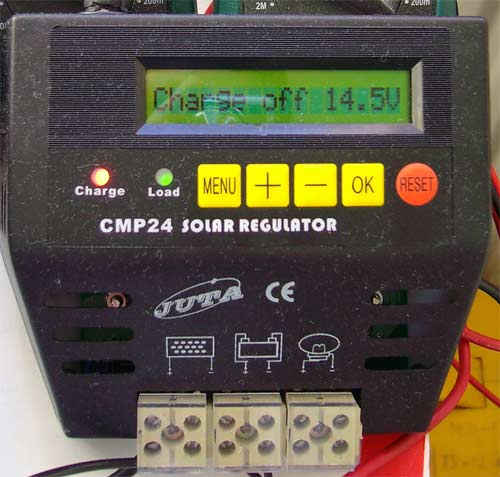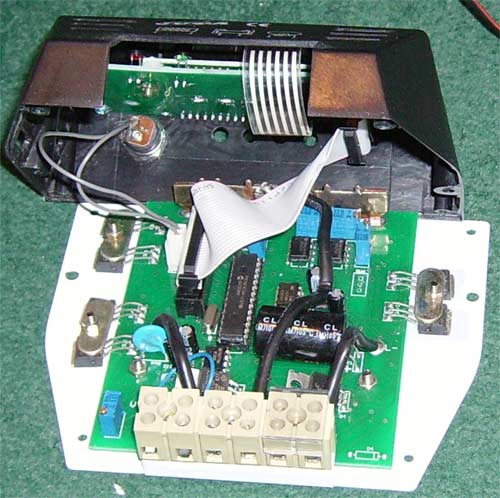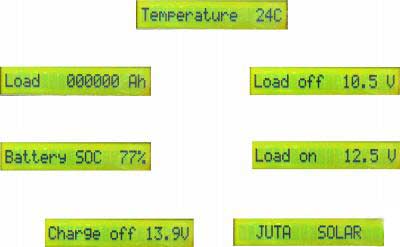 This image was taken from the eBay listing.