Home
Links
Renewable Energy Log
April 2007
27th - 12v Items
March 2007
24th - New Monitor Box
January 2007
30th - 90Ah SLA Battery
26th - New Charge Controller
10th - 18w Panel Smash
December 2006
23rd - RE Radio Shack
4th - RE Laptop
2nd - 10mm LED Torch
November 2006
21st - Panel Stand
October 2006
16th - More Portable Ideas
10th - More Portable Ideas
8th - Portable Ideas
2nd - 60w Array
September 2006
20th - 18W eBay Panel
20th - Solar Monitor Box
17th - CCFL Lights
17th - 17Ah Battery Datasheet
5th - SLA Batteries
August 2006
6th - 6W Folding Panel

Copyright © 2006-2007
Andrew Whyman
The solar monitor box:
Started and finished 20th August 2006:
Today I decided that my setup was way too "rough" and messy and that I wanted to do something about it. So I did.
I got a 0-15v meter, a 0-1A meter, my charge controller, a plastic box and got to work. I came up with what you see in the pictures below.
It has:

1x 0-15v meter showing battery voltage
1x 0-1A meter showing charge current from the panels
1x switch for the backlights
1x charge controller built into the box

It took me 2 hours to drill and file out the holes for the meters and c/c to go into. The fitting and wiring took about an hour. The wires to both the battery and the solar panels come out seperate sides.

The insides: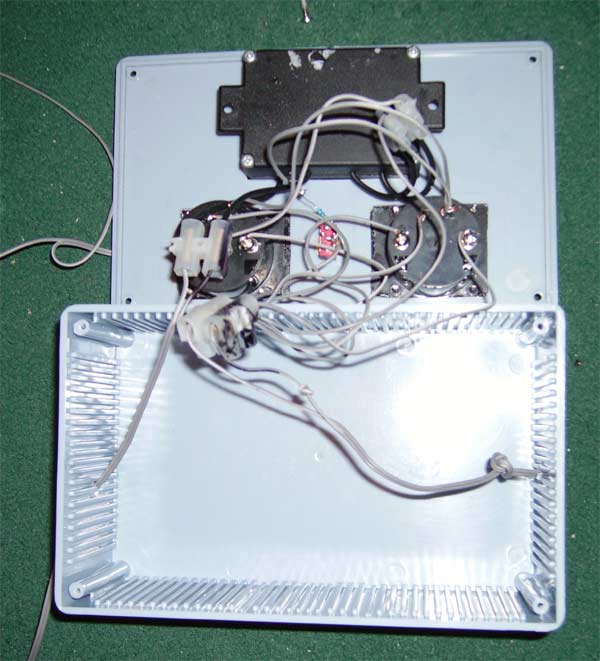 The front: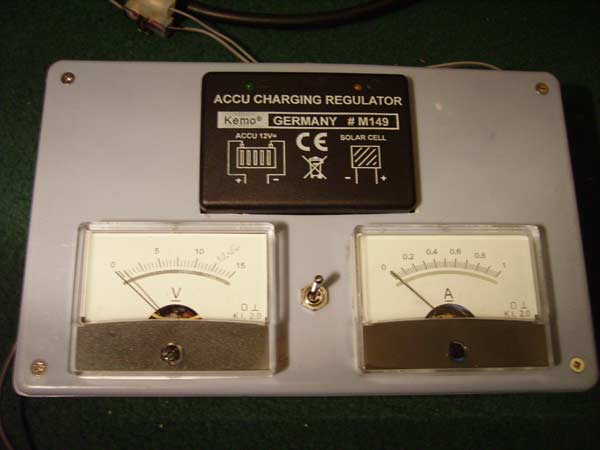 The front with the backlights on: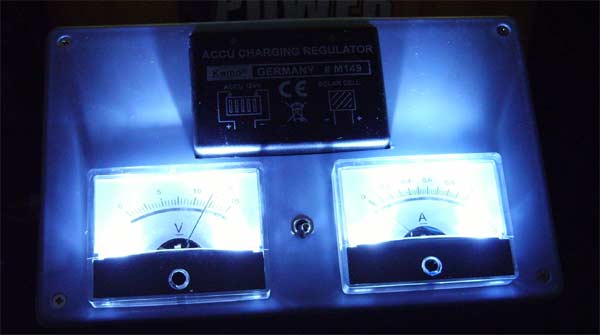 The box came to an overall cost of about £20 ($40) (each meter was £8 ($16)).