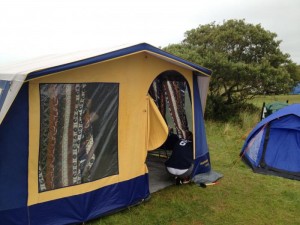 It's been well over a month since I last posted so it's probably time to update you with going's on.
Late last month I went on my annual camping trip for a week. I say annual, because I've only been going once a year the past few years. It's a nice holiday and doesn't cost much either. The general crappy economy these days makes it hard for anyone to save up and go abroad, so I just don't bother (not that I ever tried to anyway). I'm happy holidaying in the UK because there's still so many places I haven't been.
This year we had a slight change of scenery and went to Shell Island in West Wales. We had never been before but we had heard all sorts of positive reviews about the place. However being a group of 9 guys we were worried we might not be able to get on the site. Their rules do state no single sex groups, but having read reviews online they seemed to accept groups anyway. We decided to take our chances. The next thing stopping us getting on was the fact that they're so popular. Even though they have 300 acres of fields to camp on, they still get full all year round. We kept an eye on the numbers on the site by keeping up to date with their Twitter/Facebook pages. The day we left they were 85% full and expecting to go full before lunch, and we didn't get there until late. Thankfully, we did get on. How close it was I don't know.
First impressions of the site weren't brilliant but as the week went on we grew to like it. Even though there were some issues regarding facilities, we always worked around it without much fuss. There weren't many toilets for hundreds of people to share, and those that were around, besides the main block, were all porta-loo's. And believe me now, they weren't very friendly looking or smelling! Showers were also lax, but we never had to wait long providing we went at least an hour after they opened. Their opening times for the showers was a bit odd too – 8am-1pm and 4pm-10pm, the rest of the time they were closed for cleaning or for night time. I'd have expected them to be open more hours than that.
The facilities shop wise on the camp were brilliant. They had a fully stocked shop fully of food, they also had a supplies shop for camping equipment including gas/charcoal etc. They also had a gift shop too which I'm told sells pretty nice chocolate, fudge and other sweets.
The one thing that we thought would annoy us but didn't was the fact that the tides affect whether you can get on or off the site. The road in and out is tidal, but we were lucky enough to hit on a week where it wasn't flooding during the day, only early morning/late evening, so we missed it whenever we went out. Had we hit it, we would have had to wait up to 4-6 hours for it to subside! That wouldn't have been fun.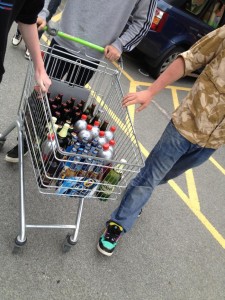 The weather that week wasn't perfect but it wasn't horrible the whole time either. The first half of the week was really hot, and I got sun burnt the 2nd day we were there. There was a modest amount of wind as well but that didn't bother us too much. We just had to make sure the tents were well anchored down. We did a good job I think, nothing ended up blowing away even with the strongest gusts.
The 2nd half of the week it turned nasty – it rained on and off every day with little sun in between. It rained so hard one night that the guys in the main tent woke up completely soaked! We ended up having to move the tent about 10 meters away to a drier patch in the wind and rain. That was an experience I hope we don't have to repeat because it was an absolute pain. The sleeping bags and clothes had to be taken to the launderette, which thankfully there is one on site with driers and washers. Had it not been there it could well have ruined the holiday for those in the main tent.
Small issues aside, it was a good week. We had some good laughs and visited a couple of nice areas. We did keep ourselves to the campsite most of the time though as everyone was always busy doing something else that it was hard to get everyone together.
I have to say I did particularly enjoy one part and that was the windy roads. They were really nice to drive on – challenging but not so overwhelming that it tired you out too quickly. The drive home was exceptionally nice as we didn't have to wait for anyone. Going there we travel together, on the way home we split up. Which is just as well, because the trailer suffered a flat tire and we had no spare. The guys towing it had to hunt for a replacement. They were lucky a random guy offered them his for the cost of a new one because nowhere was open that time of the day. He saved the day!
We're definitely considering going back there next year though. It wasn't expensive and there was still loads to explore that we didn't get chance to do.